Maggie's Manor, on Orcas Island is a sunny, gracious four bedroom [also as a 2 bedroom cottage] waterfront family vacation home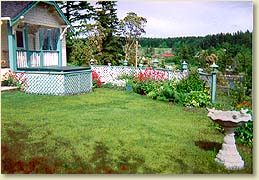 surrounded by spectacular views of Deer Harbor. Step out onto the welcoming front porch or into the command view outdoor Spa, where you can relax and look at your own picture postcard vistas of the smaller San Juan Islands and the snow-capped Olympic Mountains in the distance or at night gaze at myriad of stars in the sky and the twinkling anchor lights of the boats at rest in Deer Harbor.
Maggie's Manor sits high above our private 300' wide deep water Deer Harbor shoreline on 3 ½ acres with ample manicured lawns. Soak in the sun, clean air, and sweeping views from the bird-filled gardens



.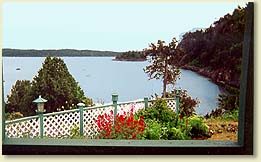 Keep toasty around the outdoor campfire

while watching for Northern Lights under the star-filled sky at night. Hike through our private 110 acre wildlife preserve and wild natural organic farm at the heart of Deer Harbor and look for Great Blue Heron, Bald and Golden Eagles, Red Tailed Hawks, Osprey, River Otters, raccoons, Black Tailed Deer, and a host of other San Juan Islands wildlife.
The Deer Harbor area of Orcas Island enjoys some of the nicest weather these "banana belt" San Juan Islands offer---lots of sun and little rainfall! Sunny Deer Harbor is a hub of San Juan Islands marine activity, with fishing, whale-watching for Orca and Minke whales, sea kayaking, boat rentals and sailing charters available, as well as moorage facilities for your own boat. A true family vacation home that has been perfect for family reunions, wedding guests, multiple family, vacation rentals, with a romantic getaway feeling.
Orcas Island vacation rental the way you would design it.......Video Tour

page two or go to Maggies Manor RATES
May-June Specials or Maggie's Seaside Cottage also with Special RATES
.
to learn more click on the words below

page one

page two

MANOR

Page one

MANOR

Page two

SEASIDE COTTAGE

SEASIDE COTTAGE

GNOME HOUSE

GNOME HOUSE

MAGGIE'S MANOR

MAGGIE'S MANOR

MAGGIE'S

SEASIDE COTTAGE

MAGGIE'S

SEASIDE COTTAGE

ALL RENTALS

ALL RENTALS

ALL RENTALS

ALL RENTALS

FUN TO READ

ALL RENTALS

WASHINGTON
SALMON RESTORATION

2014

PAGE ONE

Parcels in the Connor Estate

Now For Sale.